Imagine a small beachside town with an open secret. What is the secret? A large number of the townspeople are witches. And their falling in love.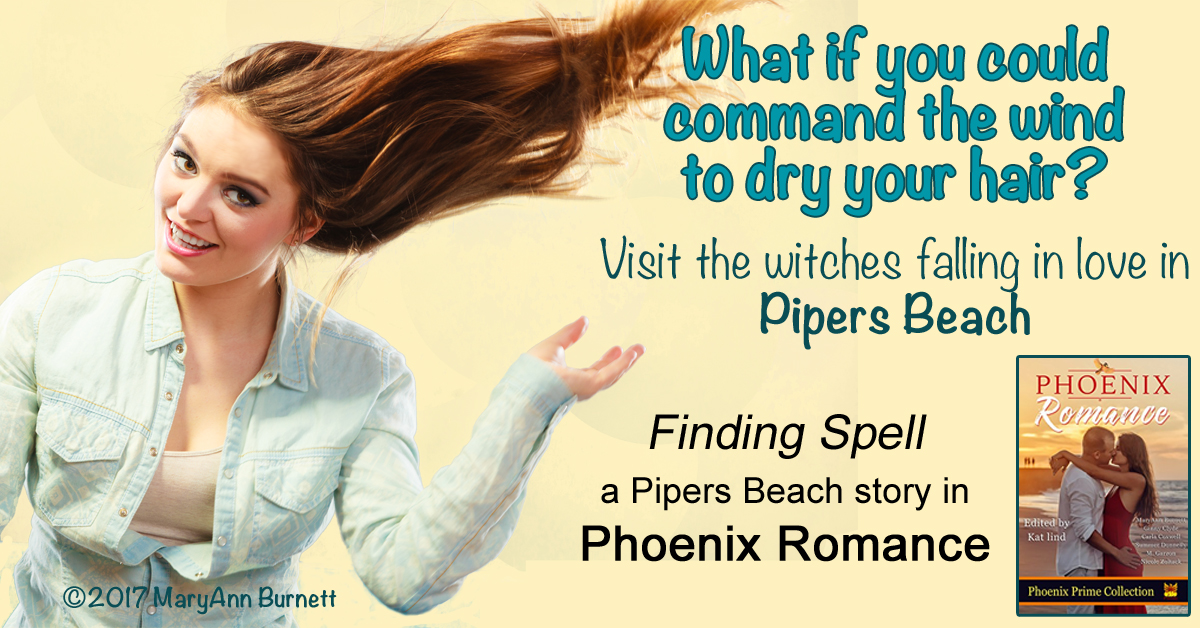 Enjoy a snippet of Finding Spell
Tori Perrell closed her eyes against the bright sun and hot breeze already wafting across the water this early in the day. She reached up and sliced her arm through the cool, refreshing water in her best imitation of a backstroke. Soothing water flowed over her body as she tried to settle the gusting currents of thoughts swirling around in her head. She raced through the water trying to outdistance several demons storming through her mind. Unfortunately, they surged along with her.
Last night, at her best friend's bachelorette party, they'd all had a few too many drinks. Knowing no one would be going farther than up a flight of stairs after drinking had probably contributed to the whipped-up frenzy of alcohol and the blast of ancient embarrassing storytelling. One of the hazards of having a group of friends since childhood and why she was using the pool to soothe her headache.
The hurricane of long-buried memories released demon number two. Tori dropped her head, flipped over, and pushed off the wall in a smooth motion. She was happy Lucy found someone to share her life. And she was happy for Ashley with her husband and toddler. And the list went on. Tori was happy for all her friends, she truly was. An image blasted across her mind of her and Craig whirling their way along the lamp-lit path of the college Quad practicing the moves they'd learned in fencing class that morning. Tori lost her rhythm and swallowed bitter, chlorinated pool water instead of air.
Coughing and sputtering, she stood up. Tori pushed her straight shoulder-length brown hair back from her face as she crawled doubled over and coughing out of the water. She grabbed one of the nearby fluffy Egyptian-cotton towels with the hotel's crest of the sandpiper embroidered on it in teal silk thread. She wrung the water out of her hair and tried to breathe normally. Her throat was already sore from gut-wrenching coughs, and her headache was worse.
Tori heard the staccato rapping of high-heels and looked up at the back terrace of The Resort at Pipers Beach, the boutique hotel she managed. Her best friend, Lucy swooped down on Tori like a visiting angel with her halo of long golden curls and happy smile on her face. Only because tomorrow was Lucy's wedding day did Tori give her best friend a pass for being too cheerful instead of battling a hangover like Tori was. Luckily, all the other women headed home before Tori went for her swim, so no one else saw her embarrassing moment.
"Here," Lucy held out a tall glass of water. "We heard you coughing all the way inside."
Tori gratefully took the glass and drank greedily.
"You know you're not supposed to drink the pool water," Lucy giggled nervously as her own joke.
Tori walked around to the back side of the outdoor bar and set her glass in the sink. "You know, if this were any other weekend, you'd have paid for that remark. But I promised I'd be nice to you on your special days." Tori made a face at her friend, then wrapped the large towel around her waist in a sarong. Tori moved her hand in a swirling motion around her head, her hair billowed out as a heated gust surged around her. A moment later, the air was once again calm and Tori's hair dried. She raked her fingers through the few wind-induced tangles.
Tori saw a look of envy cross her friend's face, but then, Lucy broke into that annoying, self-satisfied smile that happy brides-to-be get when they want to set their single friends up on a blind date. "Since I have Carte Blanche, I'll have to see what I can get away with this weekend."
Available on Amazon or in Kindle Unlimited
SaveSave
SaveSaveSaveSave
SaveSave
SaveSave
SaveSave